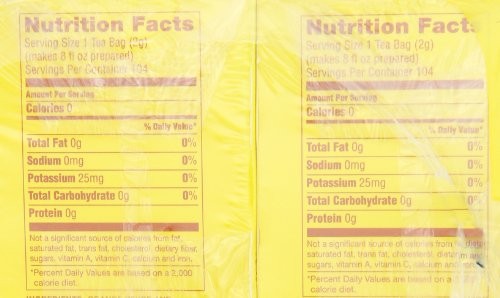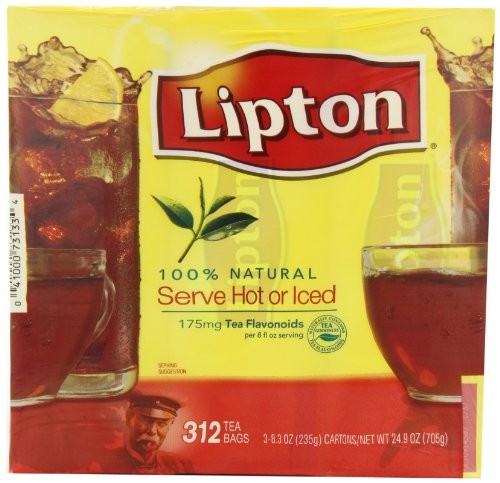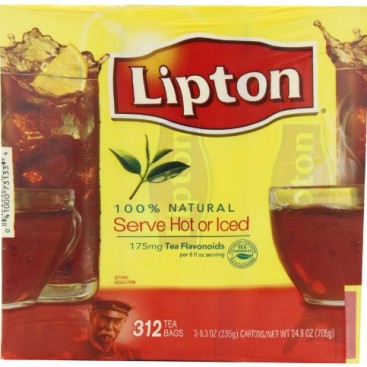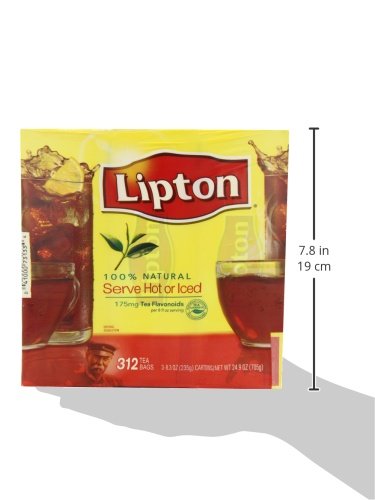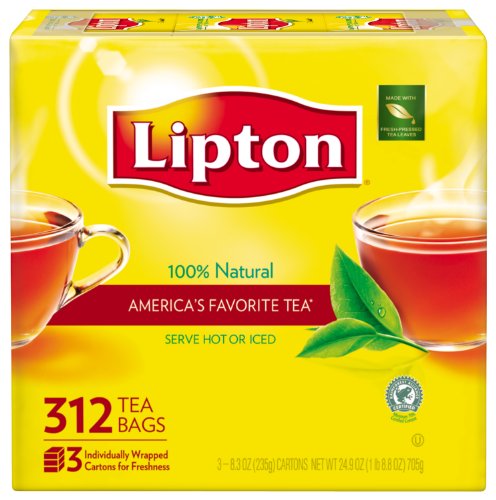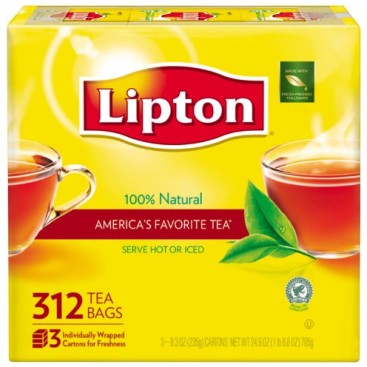 Lipton Black Tea, 312 ct
$9.29
(as of 05/28/2017 at 20:03 UTC)
Description
Product Description
Enjoy a deliciously uplifting drink with Lipton Black Tea. To capture as much of the tea taste and aroma as possible, Lipton has developed an innovative process where we press fresh, high-quality tea leaves to release their natural essence. We then use this essence in our blend. This tea is packed with heart-healthy flavonoids and is naturally hydrating, to help keep you active and energetic. It can be served hot or cold. The box contains 312 Lipton natural tea bags.
Amazon.com

LIPTON® Black Tea
LIPTON® cup size is the tea from where it all started. LIPTON® orange pekoe and pekoe cut black tea is the perfect blend for the perfect cup of tea. Lipton's original tea has been brewed for years for a reason - it tastes delicious. Plus, LIPTON® orange pekoe and pekoe cut black tea contains 175 mg of tea flavonoids per 8 fluid ounce serving.
LIPTON® Drink Positive
LIPTON® never compromises on quality, so you do not have to, either. Only the best tea leaves go into LIPTON® teas. They source their tea leaves from around the world and expertly blend them so you can enjoy a premium tea experience. LIPTON® tea is refreshing and delicious. No wonder LIPTON® is America's favorite tea.* You will reward yourself with the fresh, pure taste that makes tea a great choice.
LIPTON® Growing their Own Tea to Ensure Quality
LIPTON® only uses the top leaves of the tea plant. These youngest, tenderest, and most flavorful leaves produce the best, highest-quality cup of tea. LIPTON® grows their own best quality tea leaves. They have their own tea estates in India, Kenya, and Tanzania. They also conduct extensive research programs at their estates to improve growing and harvesting practices so you enjoy a dependably delicious cup. With their own estates, LIPTON® is able to sustain Sir Thomas Lipton's mission of constantly seeking new and improved ways of delivering the best tea experience.
They also source teas from as many as 35 countries to ensure a consistent taste and an uninterrupted supply. These teas have to be the best of the best to satisfy the tea experts.
Tea and Health Facts

Drinking tea may be associated with maintenance of certain normal healthy body functions, such as hydration, focus, and alertness.
Tea naturally contains zero calories, therefore, when it is used in place of higher calorie beverages, it can help with weight control.
In addition, regular tea drinking may help maintain cardiovascular health as part of a diet that is consistent with dietary guidelines.
Research suggests that drinking 2 to 3 cups per day of black or green tea helps maintain healthy blood vessel function.
Learn more about tea and health at www.LiptonT.com.
What is in the Box
312-count tea bag box.
Commitment to Sustainability: Your Small Cup Can Make a Big Difference
LIPTON® understands the need for sustainability. But what exactly does sustainability entail? The United Nations World Commission on Environment and Development defines sustainable development as that which "meets the needs of the present without compromising the ability of future generations to meet their own needs".
That is a tall order, but as the world's leading tea producer, LIPTON® is committed to sourcing all of their tea from sustainably managed farms. LIPTON® is proud that their Kericho, Kenya estate has been Rainforest Alliance Certified™. In addition, they expect that by 2015, all tea in LIPTON® tea bags sold globally will have been grown on Rainforest Alliance Certified estates.
The Rainforest Alliance is a nonprofit conservation organization that works to conserve biodiversity and protects the rights and welfare of workers, their families, and communities. Farms that meet the standards of the Sustainable Agriculture Network (SAN), an international coalition of leading conservation groups, are eligible to earn the Rainforest Alliance Certified seal. Rainforest Alliance Certified farms balance the three aspects of sustainability that conserve the environment, protect the rights and welfare of workers, their families, and communities and help farms to operate efficiently and cost-effectively.

*Based on unit sales for the 52-week period ending October 30, 2010
Features
Lipton Black Tea Bags have a rich taste, intense color and invigorating aroma
Carefully selected and fresh-pressed tea leaves, capture as much natural tea taste as possible
Sturdy, secure lock-box for easy storage, and wrapped Stay Fresh tea trays to help preserve great tea taste and aroma
Enjoy Lipton Tea either hot or iced
Lipton Black Tea is made with only 100% Rainforest Alliance certified tea bags