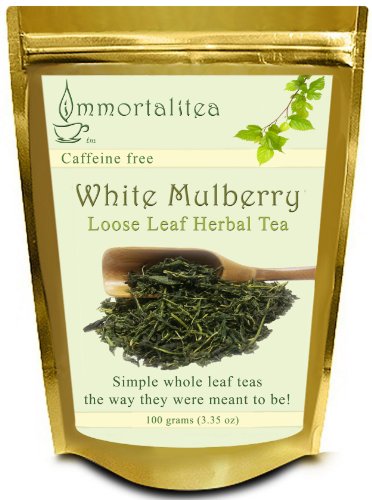 Mulberry Tea – Loose Leaf – Premium Dried Mulberry Leaves – Shipped in Resealable Bags for Maximum Freshness – Backed by 100% Money Back Guarantee
Too low to display
(as of 05/29/2017 at 23:03 UTC)
Description
Additional information
Description
What is White Mulberry Leaf Tea? - White mulberry leaf tea has been recommended in Traditional Chinese Medicine (TCM) for over 400 years. In TCM the leaves of the white mulberry tree (called Sang ye in Chinese) is considered a cooling blood tonic and believed to benefit both the liver and lung energy meridians. White mulberry leaf tea was also widely used in Greece and mentioned in ancient Greek medical texts.
In 2013 our White Mulberry Tea was featured on a popular daytime health program. If you watch the show, look for our distinctive gold pouch when they show the loose tea. They covered the label per their policy but I trust you'll recognize it all the same.
Why is our Mulberry leaf tea is the best? - We grow our mulberry trees on small farms in the highlands of Thailand where pristine air, water and soil produce a very high quality Mulberry leaf tea. Because we work directly with the farmers we can insist on natural pesticide-free growing methods. We pan dry immediately and then follow with a forced air drying method that allows us to preserve the integrity of the tea. Our mulberry tea is slightly sweet with an earthy taste reminiscent of maple leaves.
Click the orange button above and give our Mulberry leaf tea a try. Its fully pesticide free and caffeine free!
Features
Immortalitea has been the top selling brand of White Mulberry Leaf Tea in the USA and Canada for over 10 years.
When the most popular health show in America decided to feature the benefits of White Mulberry Tea on their show, they purchased from us.
Our teas are grown chemical and pesticide free in Northern Thailand, famous for its clean air and fertile soil. We work directly with the farmers. No middle men.
We are the only seller of white mulberry leaf tea with enough volume to harvest fresh tea every month. You can be sure you are drinking the very freshest premium grade tea available.
Every bag of our tea is backed by our 100% Money Back Guarantee. We can do this because it almost never happens. People love our tea!
Additional information
| | |
| --- | --- |
| Size | 1 Kg, 100 gram, 30 gram, 500 gram |