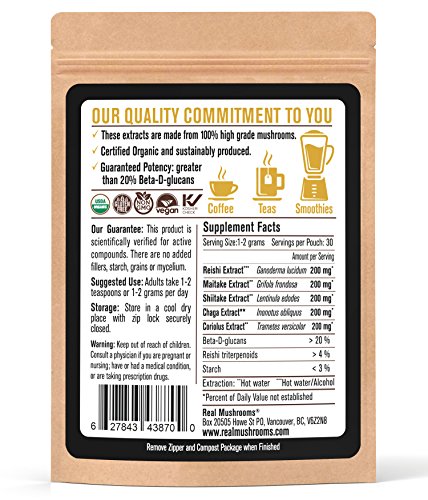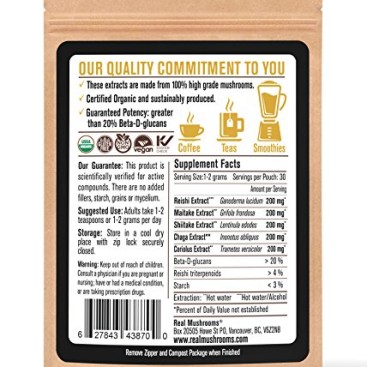 5 Defenders Mushroom Extract Blend by Real Mushrooms – Chaga, Reishi, Shiitake, Maitake and Turkey Tail Mushroom Extract Powders – Certified Organic – Immune Defense – 45g Bulk Mushroom Powder – Perfect for Shakes, Smoothies, Coffee and Tea
$40.00
(as of 05/29/2017 at 02:02 UTC)
Description
Additional information
Description
Real Mushrooms - 5 Defenders
At Real Mushrooms we pride ourselves on knowing that our mushroom products are of the highest quality. Our 5 Defenders is made from 100%, certified organic, reishi mushroom, chaga mushroom, maitake mushroom, shiitake mushroom and turkey tail mushroom. They are hot water extracted to pull out the beta-glucans. In the case of Reishi and Chaga, they are also extracted with alcohol to obtain the non-water soluble triterpenes. This is commonly called dual extraction.
Upgrade Your Shake, Smoothie, Coffee or Tea
Real Mushrooms bulk extract powders are a great addition to your coffee, tea, green smoothies, post-workout protein shakes, or as an extra ingredient in your favorite recipes. Add in as little or as much as you want.
Guaranteed Potency - Scientifically Verified
We test specifically for beta-glucans and triterpenes as these are the most well researched, beneficial compounds in mushrooms. We also test for starch which is used to show that our products contain no fillers of any kind, Just 100% pure mushrooms. If other brands only list polysaccharide numbers, make sure to ask them for beta-glucan and starch numbers. This helps to determines product quality as there is a vast difference in quality between brands.
Quality Matters
There is a very big difference in the quality of mushroom products. Beware non-extracted powders and products made from mycelium. These products are much less potent than extracted fruiting bodies. In the case of mycelium products, much of the product is actually starch so you not only have less potency but end up wasting your money on grain. Read the supplements panel on products very carefully. All our our products are made from 100% organic fruiting bodies.
Features
SMALL POUCH - BIG PUNCH: 5 Defenders uses highly concentrated extracts between 8:1 and 15:1 ratios, meaning our 1.59oz pouch is equivalent to 14.9oz of mushrooms. These extracts are made exclusively from 100% organic reishi, chaga, maitake, shiitake and turkey tail mushrooms. Hot water and alcohol extractions are used to obtain the beneficial beta-glucans and triterpenes, plus thousands of other nutrients from the mushrooms. These mushrooms are the most well known for boosting your immunity.
WHY EXTRACTS: The bulk of medicinal mushroom research and traditional use is based on extracts from the fruiting body (mushroom). Extraction breaks down the mushroom cell wall to allow our bodies to access these beneficial compounds. Without extraction, our bodies will not obtain as much of the benefits from medicinal mushrooms. Real Mushrooms strictly uses extracts to be consistent with the research so you can be confident in obtaining the benefits of medicinal mushrooms.
SHAKES | SMOOTHIES | COFFEE | TEA: Real Mushrooms 5 Defenders arrives in an easy-to-use airtight, resealable health grade packaging allowing for as much or as little use as you need for any occasion. For an extra health boost, add it into your coffee, tea, green smoothies, post-workout protein shakes, as an extra ingredient in your favorite recipes or maybe even an upgrade in your bulletproof coffee. Our extracts are 80-90% soluble in water.
GUARANTEED POTENCY: All our products are guaranteed by analytical testing to have the active, medicinal compounds scientifically shown to boost your immune system. Our extract contains >20% Beta-glucans, >4% reishi triterpenes and <3% Starch. Beta-glucans are the main active, most well researched, medicinal compound in mushrooms. We measure beta-glucans specifically because polysaccharides numbers include starch, so polysaccharide testing yields a false sense of quality.
100% MUSHROOM: Rigorous quality control testing make our products Certified Organic, Certified Kosher, Gluten-Free, Non-GMO, Vegan, Dairy-Free and Nut-Free. We do not add any mycelium, starch, grains, or fillers into our products. Just 100% pure mushrooms. We use starch testing to show the mushroom purity of our extract powders. If for some reason, you are not satisfied with our mushroom extract powders we provide a no-hassle no-questions-asked refund. We are that devoted to your satisfaction!