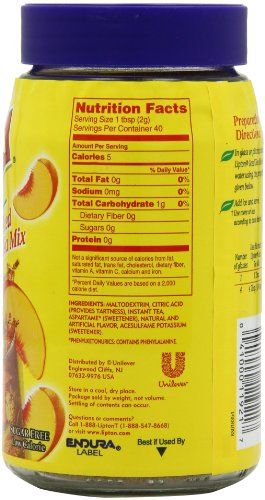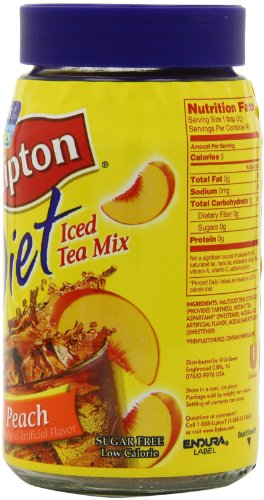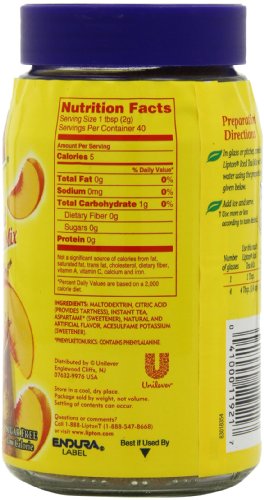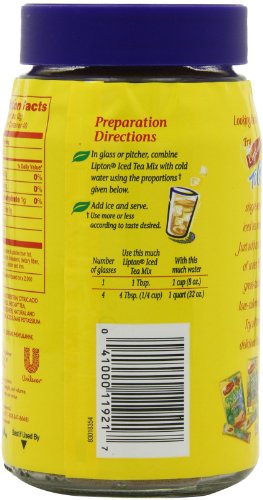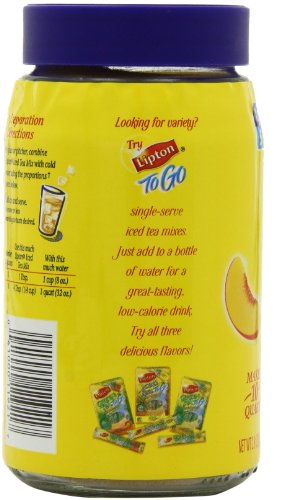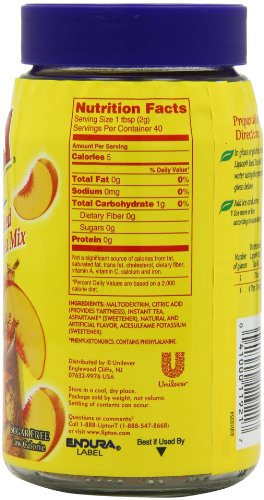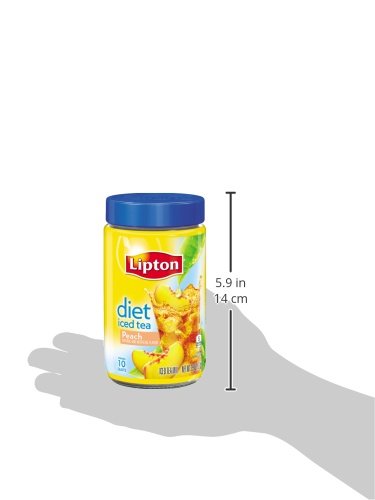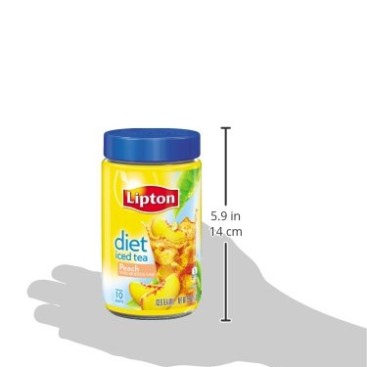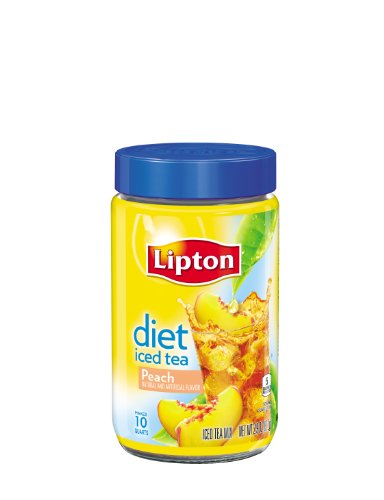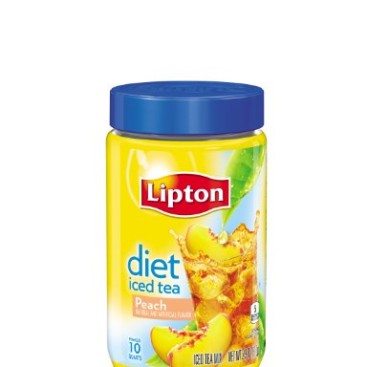 Lipton Iced Tea Mix, Diet Peach 2.9 oz , ( Pack of 4 )
$14.32
(as of 05/30/2017 at 03:03 UTC)
Description
Product Description
Lipton's expert mixologists have crafted a delicious diet Lemon flavor Iced Tea with only 5 calories per serving while delivering the genuine, refreshing taste of Lipton to make the most refreshingly delicious iced tea for you and your family. Our Iced Tea Mixes are brewed from real leaves so the taste is pure and satisfying. Lipton iced tea is the perfect addition for any of your meals because it is tasty and refreshing. So don't just default to the usual, enjoy the taste of Lipton Diet Peach Iced Tea Mix, an instant glass of sugar-free, Peach-filled flavor. Lipton Iced Tea Mixes are the easiest way to prepare delicious and refreshing iced tea in just seconds. Just pour 4 tbsp of Lipton Iced Tea Mix in a glass, add 1 cup of cold water and enjoy a perfect glass of iced tea! This mix makes 10 quarts of iced tea. At Lipton we never compromise on quality. Only the best tea leaves go into our iced tea mixes. All our tea leaves are sourced from around the world and expertly blended so you can enjoy a premium quality experience. You will reward yourself with the fresh, delicious taste that makes iced tea a great choice.
Amazon.com

LIPTON® diet peach iced tea mix is a calorie-free treat that will make the whole family smile. Enjoy the refreshing taste of LIPTON® iced tea and the sweet flavor of peaches without the sugar.
LIPTON® Iced Tea Mix
LIPTON® iced tea mix has total refreshment down cold. Instant refreshment is yours anytime with the powdered mixes. Thirst-quenching and delicious, the instant iced tea mixes are brewed from real tea leaves so the taste is pure and satisfying. Who else but LIPTON® could serve up so many ways to enjoy the convenience of instant tea?
LIPTON® Drink Positive
LIPTON® never compromises on quality, so you do not have to, either. Only the best tea leaves go into LIPTON® teas. They source their tea leaves from around the world and expertly blend them so you can enjoy a premium tea experience. You will reward yourself with the fresh, pure taste that makes tea a great choice.
LIPTON® Growing their Own Tea to Ensure Quality
LIPTON® only uses the top leaves of the tea plant. These youngest, tenderest, and most flavorful leaves produce the best, highest-quality cup of tea. LIPTON® grows their own best quality tea leaves. They have their own tea estates in India, Kenya, and Tanzania. They also conduct extensive research programs at their estates to improve growing and harvesting practices so you enjoy a dependably delicious cup. With their own estates, LIPTON® is able to sustain Sir Thomas Lipton's mission of constantly seeking new and improved ways of delivering the best tea experience.
They also source teas from as many as 35 countries to ensure a consistent taste and an uninterrupted supply. These teas have to be the best of the best to satisfy the tea experts.
LIPTON® Tea and Health
Nutrition experts agree that calorie-free herbal tea is an excellent beverage for hydration. Healthy adults should consume 74 ounces (2.2 L) of fluids for women and 101 ounces (3.0 L) of fluids for men every day. Learn more about tea and health at www.LiptonT.com
What is in the Box
Pack of four 2.9-ounce jars.
Explore the Full Line of LIPTON® Diet Iced Tea Mix
Features
Only 5 Calories Per Serving
Sugar-Free
Made from real tea leaves
Natural peach flavor
Each jar makes 10 qt of tasty and refreshing lemon iced tea