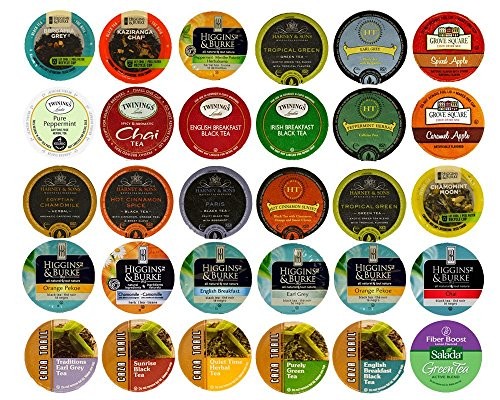 30-count TEA Single Serve Cups for Keurig K Cup Brewers Variety Pack Sampler
Too low to display
(as of 05/29/2017 at 13:03 UTC)
Description
Additional information
Description
Contains: 1 Caza Trail English Breakfast Black tea 1 Caza Trail Purley Green Tea 1 Caza Trail Quiet Time Herbal Tea 1 Caza Trail Sunrise Black Tea 1 Caza Trail Traditional Earl grey tea 1 Crazy Cups Hot Apple Cider 1 Grove Square Caramel Apple Cider 1 Grove Square Spiced Apple Cider 1 Hareny & Sons Egyptian Chamomile Tea 1 Harney & Sons Earl Grey Tea 1 Harney & Sons Hot Cinnamon Spice Tea 1 Harney & Sons Hot Cinnamon Sunset Tea 1 Harney & Sons Paris (Black Tea) 2 Harney & Sons Peppermint Herbal Tea 2 Harney & Sons Tropical Green (Green Tea) 1 Higgins & Burke Bergamia Grey - Loose Leaf 1 Higgins & Burke Chai Tea 1 Higgins & Burke Chamomile with Lemongrass 1 Higgins & Burke Earl Grey Tea 1 Higgins & Burke English Breakfast Tea 1 Higgins & Burke Kaziranga Chai Loose Leaf Tea 2 Higgins & Burke Orange Peoke Tea 1 Salada Lemon Energize Tea 1 Twinings Chai tea 1 Twinings English Breakfast Tea 1 Twinings Irish breakfast TEA 1 Twinings Pure Peppermint Tea
Features
Cups are hand picked and repackaged and not in original packaging; K Cup, Green Mountain and Keurig are registered trademarks of Green Mountain and Keurig.
Box style and size may vary from what is pictured. Some cups are recyclable.
Try 30 TEA K cups and single serve cups from Featuring all of the brands you know and enjoy: Twinings, Harney & sons, Higgins & Burke, Caza Trail, (30 Cups Total)
Brew using most Keurig K-Cup compatible brewer EXCEPT for the 2.0v.
Try a variety of different TEAS without having to buy a full box of each type! Some items might be substituted due to stick availability.