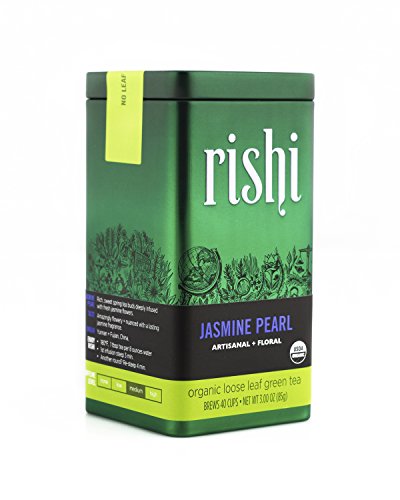 Rishi Tea Jasmine Pearl, 3 Ounce
$24.20
(as of 05/29/2017 at 04:02 UTC)
Description
The most tender green tealeaves and silvery down-covered buds are hand rolled into small pearls and naturally scented with the essence of fresh jasmine blossoms. The fragrant blossoms are mixed with our reserve Dragon Pearl (Long Xu) several times until it becomes infused with the sweet flavor and heady aroma of real jasmine. More than 20 pounds of fresh jasmine flowers are used to scent each pound of dried Dragon Pearl green tea.
Features
Our Jasmine Pearls are comprised of tender, hand-rolled tea buds from the spring harvest that are deeply scented with fresh jasmine blossoms.
Drawing upon rich and savory Fuding tea buds and sweet and fruity Yunnan tea buds, our Jasmine Pearls have a unique, complex base that marries beautifully with the lush jasmine aroma.
Tasting Notes: Tender tea leaves, hand-rolled and deeply infused with the sweet aroma of jasmine blossoms.
Ingredients: Green tea with jasmine.
Rapidly becoming a popular class of teas throughout the world, green teas are noted for their fresh flavor and green character, along with their scientifically proven health benefits.